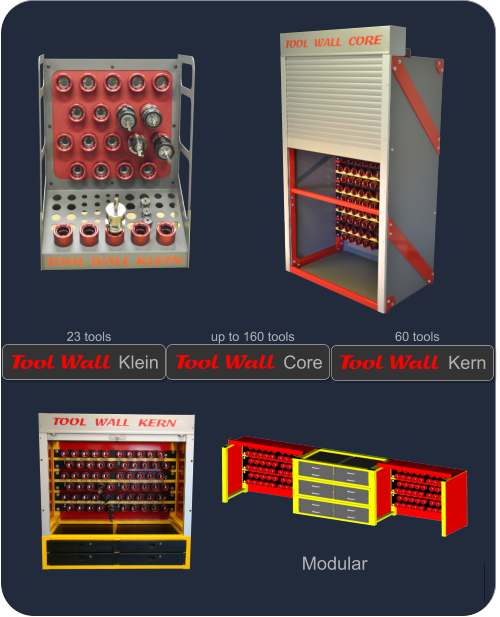 We offer 3 options to work with Tool Wall.
Purchase additional panels
and/or Full Tool Management
Free software with the
purchase of storage
The software is like our hardware
sectioned into panels of 60 tools each.
Familiarize yourself with Tool Wall by
downloading the software of 1 virtual
panel of 60 Master tools and 1 (160
tools) panel of Common Tools plus
unlimited number of BIN tools. This Tool
Tracking Basic version is not time
limited. Entered tool data can be used
indefinably aiding your operation.
Ask your

Machine

supplier to give you
the download link. If your supplier does
not have it, he/she can contact Tool
Wall under
toolwall@gmail.com
to
obtain it.
If needed, additional panels can be
purchased from your Machine supplier
or from Tool Wall directly. Or upgrade to
the full Tool Management version.

Familiarize yourself with Tool Wall by
downloading 1 virtual panel of Tool
Tracking Basic.
If you like the software, expand to as
many virtual panels as you need.
You can always purchase expansions
as you grow.
One additional panel:
Tool Tracking Basic $ 120.-
Full Tool Management $ 240.-
Purchase our Tool Wall storage system
in various configurations and we will give
you the accompanying full version of
Tool Management software for free.
The software has a setting that displays
a user interface depicting the Tool Wall
storage you have. This feature makes
tool identification simple. We call it the
"Virtual Tool Wall".
This option lets you buy panel sizes of
60 and 160 tools for 30 and 40 taper tool
holders.
All other holder panels have 60 tools.
Prices for Tool Storage panels that are
software supported start at $ 1995.-
The software should be updated once per year to insure you have the latest version. Updates are
available as of Oct 7th every year. Updates are free of charge.

for renewals, system information,
pricing, system help and other
information you need.


Apollo Machinery is the
manufacturer of
Tool Wall storage